On Saturday January 28, come out to THE ROOM AT HARPERS PUB in CLEMENTON NJ to celebrate the 2017 EGO ALIEN release on THIRSTY RECORDS with a night of original rock music including JOHN FAYE, 4:44 and PRAVDA.
You will hear cuts from the new EGO ALIEN album, new music from 4:44's latest release, and new Pravda material. The new Ego Alien CD and t-shirts will be available at the show.
John Faye will act as host performing multiple times throughout the night. Word on the street is that there may be a surprise visit from his alter ego, JIMMY MILLER.
Click on this EVENT LINK and accept the invite. Come out and bring a friend, we'd love to see you!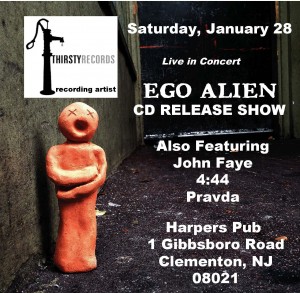 HARPER'S PUB has an excellent menu and there is no cover charge to this show.
See you at The Room at Harper's Pub, 1 Gibbsboro Rd, Clementon, NJ 08021