(double disambiguation)
THE MAN
Clarence Monroe Johnson (June 19, 1910 – December 31, 1999), known as "Witherin' Johnson", was a cosmic American blues singer, songwriter, guitarist, and occasional pianist from Port Arthur, Texas. Authorities claim he simply vanished on the eve of the new millennium.
The Gulf Coast's poet-in-residence for nearly 50 years, Johnson is notable for his refusal to ever record in the modern album format. He made his mark with a slew of hit-and-run singles on assorted minor independent labels. This dogged commitment to the margins allowed him to produce works of uncompromising intensity by ignoring all influences from the outside world. To date no collection of his music has been made commercially available.
It's difficult to gauge the cultural impact of singles like "Can't Live With 'Em, Can't Live Near 'Em", "All Downhill From Here", "Silky Way Blues", and "Lord, She's Got To Go", but there's no question of the deep impression these works made on the band who now carry on in his name.
THE BAND
WITHERIN' JOHNSON is an American alternative rock band from Texas who takes its name from the obscure bluesman. The band was formed during an existential liquor store run by J. Fred Resin (Vocals, Guitar) and Lowball Jack (Guitar). Their first song was written there on the spot in the discount aisle. They recruited childhood friends Nathan "Bedroom" Forrest (Bass), and Rusty Girders (Drums) to lay down the foundations for their debut on Thirsty Records, "AND THE HORSE YOU RODE IN ON".
The record kicks off with a tribute to their mentor by calling out a modern update of his "Pale Imitation" blues. Having set a heavy mood they cut right into a screed of blistering jams about the loss of blood, money, jobs, friends, women, and self-control. " AND THE HORSE YOU RODE IN ON" is a lean, mean, rock 'n' roll testament to partings-of-the-ways of all descriptions.
The old man gave them hard lessons – a downwardly mobile way of seeing things as much as the liberal bending of strings. He gave them everything they needed to know in the form of his oft-repeated philosophical challenges to the almost-but-not-quite-ness of everything:
"Be Alive. Speak Spanish. No Checks."
"Be wrong enough to get it right."
"The end ain't comin' quick enough. Let me touch a dollar."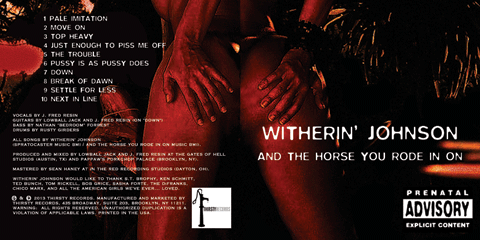 Follow WITHERIN" JOHNSON on SoundCloud.
/// \\\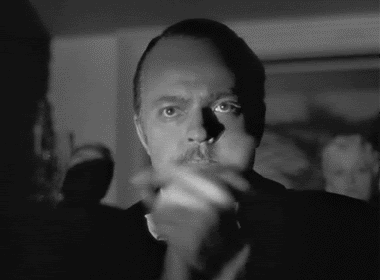 Exclusive Nathan "Bedroom" Forrest Interview by C. Space from THROBOSAURUS BASS ZINE (September 2013)
We caught up with Nathan "Bedroom" Forrest, the bass player for Witherin' Johnson, at an all-u-can-eat chicken fried steak happy hour in Austin where he gave us the skinny on his fat and dirty bass style.
THROB:  Tell me about your musical upbringing.
NF: I was surrounded by music from a young age. My father preached at the Trample Road Church of Christ in Houston. I started picking a little guitar in the house praise band at age 6. By the time I was 12, I had started a silly church dance band. We were set on naming it Billy Bible & The King James Trio, but that name was already taken by another Houston area band, so we settled on The New International Players.
THROB:  Who were your influences on bass?
NF: Stateside it was all about high cholesterol grooves being laid down by players like Larry Graham, Duck Dunn, James Jamerson, & Bootsy Collins. From England, I focused on the punch and crunch of John Entwistle, Geezer Butler, and John Paul Jones. Later on, I was totally into Lemmy.
THROB:  How did you go from playing guitar in a praise band to playing bass in Witherin' Johnson?
NF: Helluva question. I first met J. Fred Resin and Lowball Jack when I caught them cutting out of Sunday services at Trample Road to smoke and listen to "Highway To Hell" in the parking lot. It wasn't too long until I was out there with them every Sunday. They kept talking about some cosmic bluesman named Clarence "Witherin'" Johnson who they were trying to convince to give them lessons, but he didn't think they were serious. Jack finally snuck me in to a chicken shack called Ludie Mae's to see this guy play. Everything about Witherin's band was heavy and deep, like thunder. The shack was totally shaking and moaning. It was the absolute widest, wildest musical sound I'd ever heard, and it changed me. It changed the way I walked, the way I talked, and also the instrument I played. It was like a switch getting turned on. All I wanted to do was play the biggest sound possible – BASS. Simultaneously, it hit me that I was finished with groove-less, white bread praise bands.
THROB:  What was your next move?
NF: We got our drinkin' buddy, Rusty Girders, to play drums, and finally talked the old man into giving us music lessons as a group. We had no idea that he was showing us more than just chords, melody, timing, or tone. We would run down some dinky little teenage tune, and he would say something edgy like, "Play what's not there." We would try to freeform jam and his comment would be, "Can't play free unless there's something to be free from." He was like a Buddha with gold teeth, and he expected you to flow with no ego. He was always telling me to phrase on the off-beat of the off beat and to play the notes between the notes.
THROB:  How did you apply this knowledge to your career?
NF: My first popular local band was called Slacks (like Pants but that name was already taken). Because of our name, "Slacks", we were lumped in with the Church of the SubGenius. Their honesty about their "fake religion" seemed pretty refreshing after the Church of Christ's fakeness about their, um, honesty. We all paid a $35 fee, and the SubGenii started booking us to play their "devivals" which consisted largely of sci-fi sermons, angry anti-commercial rants, and also music. These "devivals" were huge events for Texas freaks and notable for being "clothing optional". It wasn't long before sex, drugs, and absurdism took over the group, and we broke up over the same muy caliente senorita we were all sharing.
After that I drifted around the country as a bassist-for-hire until I landed a gig in Los Angeles with Latent Thetans who were the Church of Scientology house band. The Scientologists were a lot like the SubGenii except with no sense of humor. It was a great place to rock the low end… until it wasn't.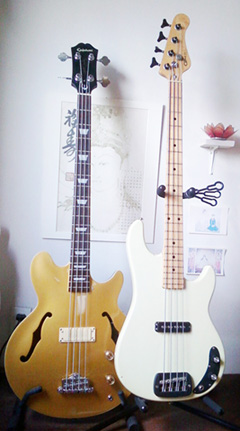 When they decided that I needed to go, they sold all my instruments and my rock 'n' roll shoes, and left me penniless in a dumpster behind Jerry's Famous Deli in Marina Del Rey. I wandered in a haze for days mulling over the implications of being left in the trash. When I finally came to my senses I was sitting in the back row of an Alcoholics Anonymous meeting somewhere in Orange County.
I eventually ditched all cults and recovered from being in recovery.
Next thing I know I'm back in the great state of Texas making a record with my childhood friends in a band that's now called Witherin' Johnson. A band that's a 100% tribute to the man who showed us what was what. Nothing else really matters.
THROB:  What were your weapons of choice when you recorded "AND THE HORSE YOU RODE IN ON"?
NF: Half of the record is a scratch 'n' dent Epiphone Jack Casady with a gold top and a killer low impedance pickup. The other half is a pawnshop G&L SB-1 (P-Bass) from the 1980's. I also used the Catalinbread SFT bass overdrive like it was going out of style.
THROB:  What's happening besides the new Witherin' Johnson record?  What else is on the horizon for Nathan "Bedroom" Forrest?
NF: I just started cutting some tracks for a group called "party apes".
I'm also looking for a luthier crazy enough to build my dream bass. It's a 6 string bass where both the D and G strings are doubled with octaves. It's like an 8 string bass minus a couple of the octave strings.
THROB:  What would you be if you weren't a bass player?
NF: A porn star!  Seriously!