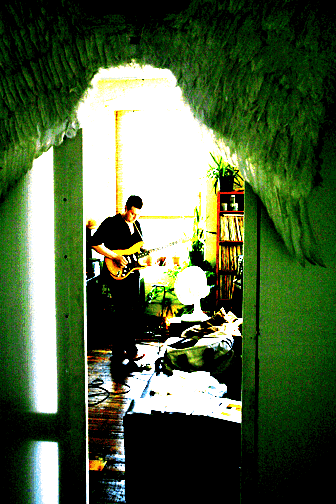 It all started with a fascination for rare records located deep in Texas pawnshop cut out bins. It came together one late afternoon at a back o' town chicken 'n' whatever joint called Ludie Mae's.
A knife-wielding patron jumped into the open door of a long, black, early '70′s oldsmobile. He was looking for cash and trouble. He demanded to know what the hell was on the numerous crazy-looking, home-brewed cassette tapes scattered across the dashboard. His shiny blade waved and danced all around the front seat.
The front door of the joint busted open. A man in dark glasses and long dreadlocks came out walking fast with a cocked revolver in his hand.  Gold teeth gleamed as he ordered the problem patron out of the car. With a quick gesture, two of Mr. Johnson's boys hauled the freak out the window, and tossed him hard into the road. Mr. Johnson explained that life was bad for everyone, but this was his place. Something had to be done. He spoke with the cool and poise of a shaman as he slid his piece back into his waistband. All this took place in slow motion while throbalicious, deep fried grooves pulsated across the chicken shack's rough gravel parking lot with a tremendous low-end thump.
The world seemed… full of possibility.
Some of it… even good.
LOWBALL JACK (a.k.a. Jack Sprat) soaked up the heavy beats and twangy accents emanating from his native Texas/Louisiana border, and rode them all the way to the Big Nipple. He's screwed lids on bleach bottles, hawked snake oil to rich folks, managed some men's fortunes and other's addictions to take the listener on journeys ranging from trip hop to monster rock to the cosmic American funk of "ALL JONES NO BUZZ". All of these sounds mixed together with the noise of the elevated train became "URBAN NOISE DIRTY POISON" and its companion piece "PHOTO NEGATIVE".
A radio announcer once said, "Ah, so you're joining the thirsty armies of the night?" "BUG" is a soundtrack for those "thirsty armies of the night". It's an instrumental trip that hits the highs and (mostly) lows of fuzzy nights out on the town. The early buzz and expectations of getting ready to go out ("Horse On The Way") and hitting the street ("Gutter Strut") have a way of pushing from zero to sixty ("Bottled Up"), and there may be no way to pace yourself ("Doubled Down"). Your inner party ape takes control, and the usual trouble starts ("Bug"). Liquid teasing from a sexy bartender ("Sploitation") turns into getting cussed out in the middle of the street ("Crocodile Smile") and losing control of your sauce ("Spill"). Only deep fried, late night snacks ("Chile Relleno") and the sobering knowledge that you will do it all again tomorrow night ("When Yer Down") gets you home in one piece. It's a drinking record, so if the cocktail isn't to taste, the cd itself is specially designed to make an excellent coaster.  Drink up.
You can also find Jack playing guitar and co-producing Thirsty artists WITHERIN' JOHNSON ("AND THE HORSE YOU RODE IN ON"), PARTY APES ("ERASE YOUR TAPES") and LOS CONFABULATORS ("'SUP ").
He produced QUEEN ESTHER's acclaimed debut slice of Black Americana, "TALKIN' FISHBOWL BLUES" and co-produced KELVYN BELL's "ST. LOUIS BLU: KELVYN BELL PLAYS ACOUSTIC GUITAR" along with KELVYNATOR's avant jazz-funk monsterpiece, "FUNK 4 WHA CHA KNOW".
Follow LOWBALL JACK on SoundCloud. License this music for commercial use through gettyimages.
Contact: jacksprat[at]thirstyrecords[dot]com.