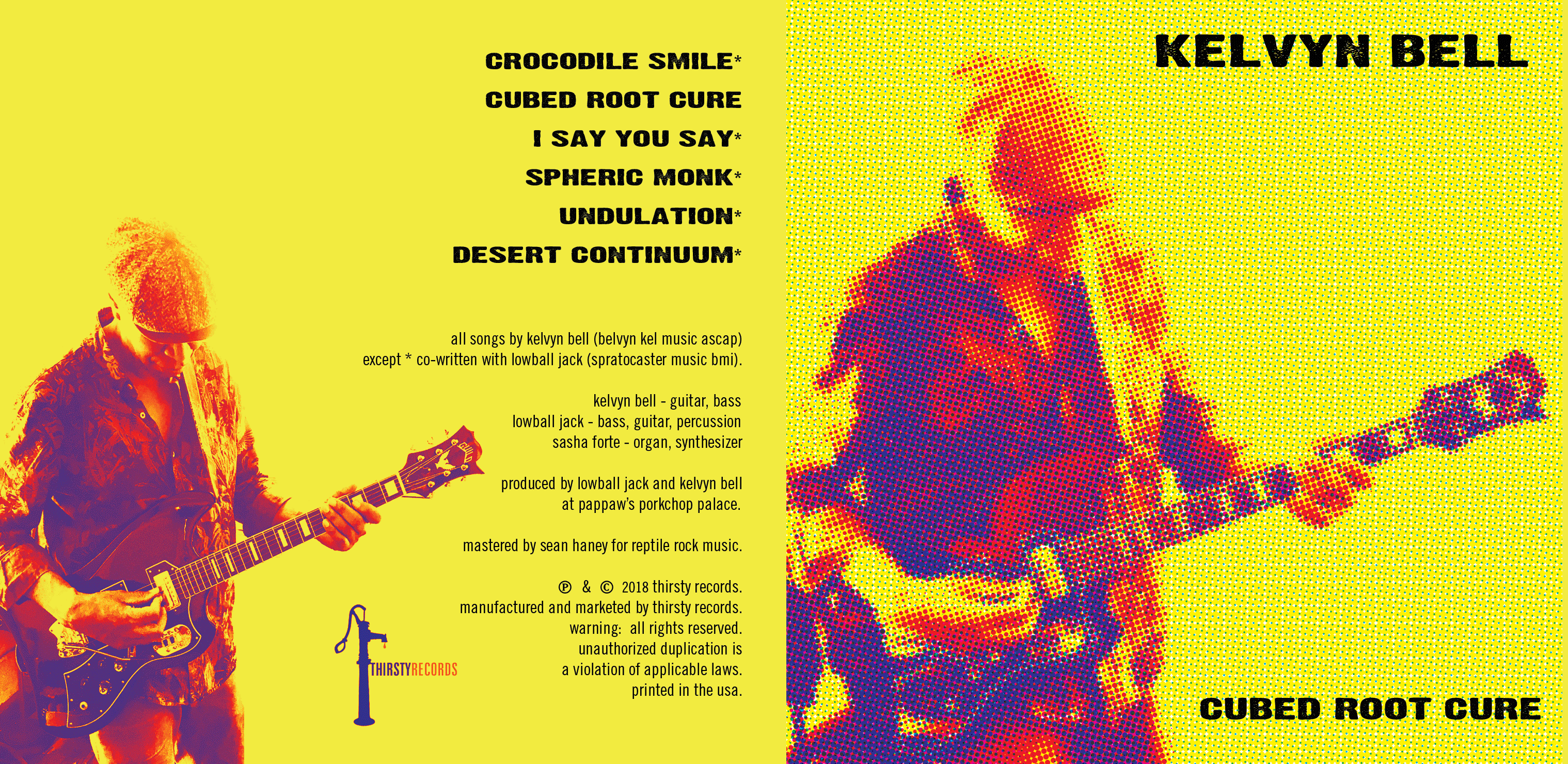 FOR IMMEDIATE RELEASE
THIRSTY RECORDS ANNOUNCES THE RELEASE OF KELVYN BELL'S "CUBED ROOT CURE"
JANUARY 2, 2018 (NEW YORK, NY) – Thirsty Records is proud to announce the release of KELVYN BELL'S, "CUBED ROOT CURE" EP.
Master guitarist/composer Kelvyn Bell follows up on his 2015 solo release, "St. Louis Blu – Kelvyn Bell Plays Acoustic Guitar" with this return to audacity and electricity, "Cubed Root Cure". Rhythmelodic talking jazz guitar, greasy rural funk, world music, psychedelia, and futuristic odd meter soundscapes mixed together in a liquid solution.
"Cubed Root Cure" is a collection of six original compositions recorded at Pappaw's Porkchop Palace (Brooklyn, NY). All instruments were played by Kelvyn Bell (Guitar, Acoustic Guitar, Bass), Sasha Forte (Organ, Synthesizer), and co-producer Lowball Jack (Bass, Guitar, Percussion). Kelvyn states, "This was about getting outside the comfort zone and straight into the experimental. I went for it with all the wildest stuff I could imagine."
The opener, "Crocodile Smile", is a straight up scorcher including a wicked break. "Cubed Root Cure", the title track, is a slinky envelope filter masterpiece that counts out variables of time in nine, six and three. "I Say You Say" is an intense back and forth conversation over a rolling, swampy groove in seven. The loose, slightly dissonant "Spheric Monk" is a tribute to the idiosyncratic beauty of Thelonius Sphere Monk. The vibe for this tune arrived one night on the bandstand. Kelvyn jammed around on it all night long, and then recorded it the next day after no sleep. "Undulation" evokes the romance of old New York's streets at dawn as distant muted horns hook up with the talking guitar down on the corner. The closer, "Desert Continuum", feels at once old and new as ancient acoustic drone meets futuristic world electronica.
AVAILABLE NOW AT:
###