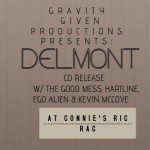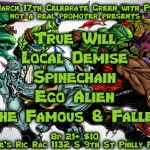 You can see EGO ALIEN live on Saturday, March 11, 2017 at CONNIE'S RIC RAC for the DELMONT (CD Release) with HARTLINE, EGO ALIEN and KEVIN MCCOVE show and can get your TICKETS HERE. You also can see EGO ALIEN live on Friday March 17, 2017 at CONNIE'S RIC RAC for the Drunken Irish Night In The Italian Market
Please go to EGO ALIEN SOUND CLOUD site to listen to recently uploaded cuts from the new EGO ALIEN album, "PROGRESS IS A GNARLY CLOWN" and live Recordings of performances by EGO ALIEN from the Ego Alien 2017 Album Release Show with John Faye, 4:44, Pravda at The Room at Harpers which occurred on 1/28/17. We'd love some feedback!
You can hear EGO ALIEN, THIRSTY RECORDS artists and other original regional artists on THIRSTY RECORDS ON GASHOUSE RADIO
Follow EGO ALIEN on Facebook, Twitter, YouTube, and SoundCloud.
"PROGRESS IS A GNARLY CLOWN" IS AVAILABLE NOW AT:
###