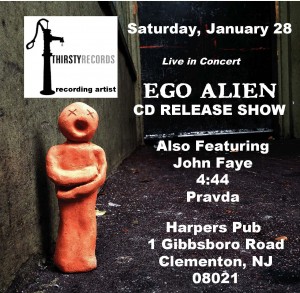 Check out these audience-generated photographs of the Ego Alien 2017 Album Release Show with John Faye, 4:44, Pravda at The Room at Harpers on 1/28/17. There are also other photographs and videos on the event page. Official CD and digital release information for EGO ALIEN's 2017 release, "Progress is a Gnarly Clown", will come in the next few days.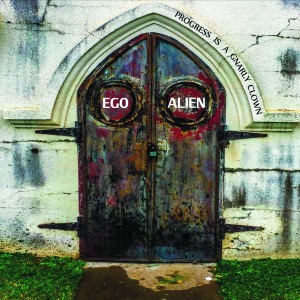 The turnout was huge and the love and support was greatly appreciated. It cannot be stated strongly enough how supportive the South Jersey/Philadelphia music scene is. EGO ALIEN and THIRSTY RECORDS thank you.
Ego Alien would like to thank Mati Shernoff and Harper's Pub & Restaurant for an excellent venue and a warm and friendly environment. The audio was kick ass and Ryan Bleaken did a fantastic job mixing.
A big thanks goes out to JOHN FAYE for hosting and playing numerous classics.
4:44 sounded great and promoted the show like madmen, which had a positive impact on the large turnout.
The surprise acoustic KID FELIX set was a local scene highlight for early 2017.
PRAVDA closed the night with a tight, super heavy, melody-laden darkness which stunned us all
Thanks to Si Marks from for managing merchandising.
Thanks to Rob Sankey, Anthony Friedlander, Jack Friederichsen, Camille Pertuo, Chris Kuzmanick for the photos.