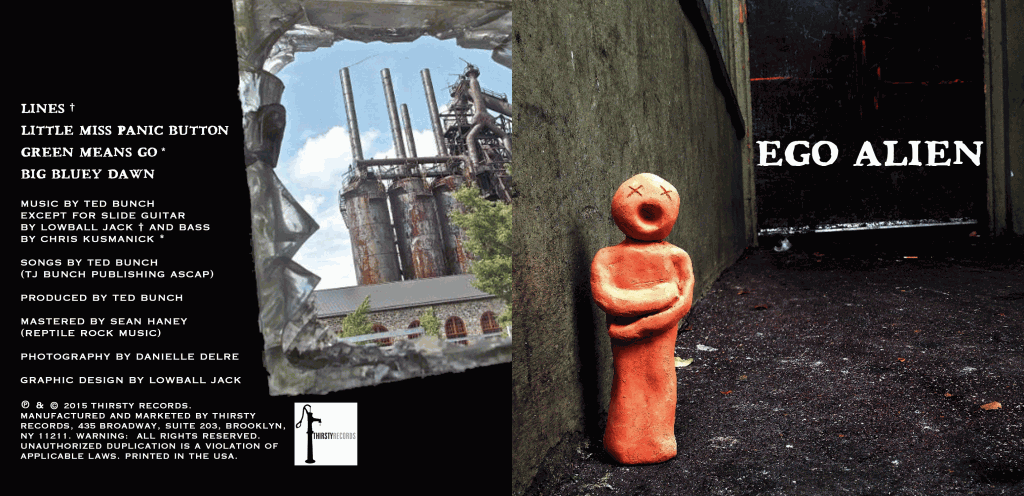 FOR IMMEDIATE RELEASE
For more information, contact: Ted Bunch … tedbunch[at]thirstyrecords[dot]com
THIRSTY RECORDS ANNOUNCES THE RELEASE OF EGO ALIEN'S EPONYMOUS EP.
MARCH 10, 2015 (BROOKLYN, NY) – Thirsty Records is proud to announce the release of the fresh eponymous EP from EGO ALIEN.
EGO ALIEN released their debut EP "CRAWL ON THE EDGE" in January of 2014. It is available here. Shows on the East Coast and consistent radio play ensured a successful first year for the band. With their eponymous follow-up EP out today the band looks forward to another successful year. The new "EGO ALIEN" can be purchased here.
As main man for EGO ALIEN Ted Bunch is a proud supporter of the Philadelphia/South Jersey original music scene, and can be found at various area clubs on either side of the Delaware River, on any given night.
Chris Kusmanick plays monster grooves on a fretless five string bass and The Drummer's high energy and hard driving edge completes the heavy melodic power trio.
"EGO ALIEN" IS AVAILABLE NOW AT:
###